Meet the Team
BBI Studios is a small business, run by people who care deeply about the products they make. Every title we produce is the result of countless hours of consideration, artistry, and hard work. We sweat the details, so that we can build great things.
Gene Whitaker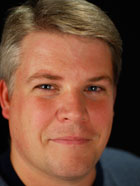 Gene Whitaker, CEO and founding member of Bombing Brain Interactive, has been developing software for over 16 years and managing software teams for the past 11 years. Gene has always believed that the best software systems put the user first, and he has strived in his career to balance his technical experience with his natural understanding of human behavior and love for the arts.
Gene holds an undergraduate degree from La Salle University in computer science, where he graduated Maxima Cum Laude. He started his career interning for the DuPont Corporation, where he built the company's first centralized intranet system. Gene later moved on to QVC Inc., where he was an integral part of the development team that brought QVC.com out of its infancy and into the billion-dollar commerce site that it is today, including spearheading the company's email marketing system.
After a short contract at the financial services start-up InvestorForce.com, Gene took a lead architect position at Wyeth Pharmaceuticals (now Pfizer), where he led a team of employees and contractors in a multi-year overhaul of the company's highly regulated enterprise labeling systems. During this time, Gene completed his MBA at Villanova University, graduating Magna Cum Laude.
After many years in corporate information technology, Gene decided to pursue his dream of working in a smaller, more entrepreneurial environment and joined M3 Media Group as Director of Information Technology. At M3, Gene invented the company's advanced contact management engine, and for over six years he oversaw the team that supported and enhanced it. This system now supports the business operations of M3's two multi-million dollar subsidiaries - M3 Health, an interactive healthcare communications agency, and M3 Mobile, a leader in text message marketing (M3 Mobile was sold to GSI Commerce in 2010).
In 2009, Gene started Bombing Brain Interactive with long time friend and colleague Tim Cochrane. Being a Mac lover for over 20 years, Gene quickly realized that Apple's new iOS ecosystem offered the perfect platform for his blend of science and art.
Tim Cochrane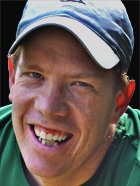 Timothy J. Cochrane, founding member of Bombing Brain Interactive, is a consummate developer. He has been programming computers since he was 6 years old. While a senior in high school, he was 1 of 4 selected to attend a college level programming course at Penn State University. Tim then went on to major in computer science at Drexel University. During his time at Drexel he successfully completed 3 co-op assignments at Cigna Insurance, Princeton Instruments and Motorola.
Upon graduating from Drexel (1998), with a minor in mathematics, Tim started his professional career at QVC Inc. He quickly rose through the developer ranks to become an esteemed member of information technology department, winning numerous awards. During his tenure at QVC he developed in a variety of modern object oriented technologies that had never been used at the company.
Tim also earned a Masters Degree in software engineering from Penn State University in 2004. Not long after Tim moved on to become the Chief Information Officer at Internet Probation and Parole Control, Inc; a company that monitors computer use of those recently released from prison. Here, Tim built a system from the ground up that included an extensive interactive web site, database and monitoring system that tracks all internet and computer activities in real time. He also developed a state-of-the-art biometric system that integrated with the monitoring software (Patent Pending).
In 2008, Tim went into consulting for LiquidHub Inc., one of Philadelphia's leading consulting firms. Tim was assigned to QVC Inc. and has had his contract renewed continuously for the past 2 years doing a variety of integration work and leading the way to bring new technologies into the company.
Tim has developed on most computing platforms in most programming languages. Since 2003, Tim has single-handily created and maintained a web site for one of his passions: roller coasters. CoasterCounter.com has been a steadily growing community with over 8,000 members. Taking his passion one more step, Tim partnered with a colleague to create the highly successful iPhone application, CoasterCounter. Bombing Brain Interactive was born shortly thereafter, and the group has since produced additional iPhone and iPad applications.
Joe Cieplinski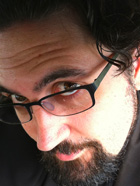 Joe Cieplinski, Creative Director of Bombing Brain Interactive, has been a designer in the Silicon Valley for more than ten years. Born and educated on the East Coast, Joe made the move to California's San Francisco Bay Area in the summer of 2000, in the midst of the first Internet wave. At the time, Joe taught English to high school students, while beginning to work freelance as a graphic designer in his spare time. He thus missed out on most of the first Internet bubble.
By 2001, Joe had transitioned to graphics full time, just as the bottom dropped out of the Dot Com industry. A consistent early adopter of new technologies, Joe had quickly realized the potential of mobile computing with the early Apple Newton and Palm Pilot. This would be the next revolution, he thought, even if it took a few more years before it happened. So he stayed in the Bay Area, waiting for mobile to mature. He has been passionate about mobile user interfaces ever since.
Joe has designed for companies big and small, helped design online educational materials for institutions of higher learning, created interactive training materials and presented courses in various subjects. But he is always happiest designing for the small screen of a mobile device.
With the coming of Apple's iPhone in 2007, and the release of the developer SDK a year later, Joe's dream of creating truly amazing mobile software experiences became a reality. He immediately began studying all he could about Apple's interface guidelines, and he began downloading 3rd party apps at an alarming rate, trying to figure out what worked and what didn't.
In 2009, Joe teamed up with his old friends at Bombing Brain Interactive, providing some graphic and user interface help. Soon after, he was taking on a larger role for the UI design for most of Bombing Brain's projects.
Joe lives in San Francisco, slaving away in his office or at a cafe, occasionally getting up to take a walk.